News
Centreville Mayan Youth Dance Program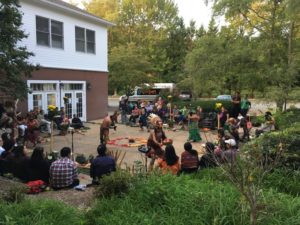 Centreville Immigration Forum was pleased to participate in an innovative partnership with the International Mayan League, an indigenous organization, and Grupo Sotz'il, a world-renowned Maya Kaqchikel contemporary dance company. This innovative project, Restoring Our Ancestral Knowledge, took place September 5-10, 2017.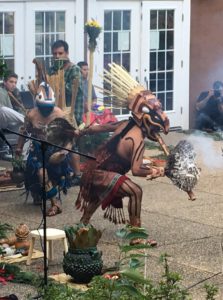 The program included several days of workshops with Mayan youth in our community. Over the week, the Labor Center was transformed into a unique and vibrant space rooted in indigenous culture, history, dance, and music from Central America. The sessions concluded with a public performance on Sunday, September 10 on the grounds of St. John's Episcopal Church in the historic Centreville District. The performance brought neighbors together to learn about and celebrate the historic traditions of the Mayan people. It was an important opportunity to stand with indigenous families and children during these times, celebrating the diversity and resilience of our youth and letting them know that they are not alone.
The presentation of Grupo Sotz'il's Uk'u'x Ulew / Heart of Earth was made possible by the New England Foundation for the Arts' National Dance Project, with lead funding from the Doris Duke Charitable Foundation and The Andrew W. Mellon Foundation. Partial support for the workshops was provided by the Sacred Fire Foundation. Local donors also supported the project.
Annual Meeting October 24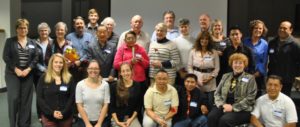 The CIF Annual Meeting was held on October 24 at Centreville Immigration Forum. The Annual Meeting began with a 10-year review of the beginning of CIF (which began in 2007), and congratulations to the volunteers and members who made important contributions in the past year. Nearly 50 people attended to be updated on the recent accomplishments of the organization and learn about goals for 2018. In addition, the Executive Director presented the 2018 budget, and the meeting approved new Board members.
Annual Awards Dinner September 22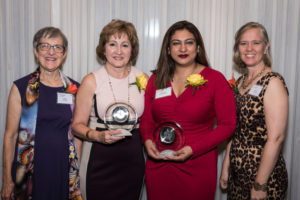 The third Annual Awards Dinner was a great success, with 115 persons enjoying the lovely space and good food at the International Country Club, and hearing inspirational words from award-winners. This year's winners were Diana Katz, dynamic leader of philanthropic work in Reston; Mukit Hossain (posthumous award), charismatic and talented spokesperson for the rights of all immigrants; and Kofi Dennis, talented musician well-known for sharing his spirited drumming throughout the community.
Diana Katz: Ms. Katz was born and raised in Mayaguez, PR. In 1975, she came to the United States and received a Master's degree in Computer Science from the University of Maryland. She holds a bachelor's degree in Mathematics from the University of Puerto Rico. After coming to the mainland from Puerto Rico, Diana has worked tirelessly to help improve the lives of people in our community. She is a co-founder of the Giving Circle of Hope which provides grants to area non-profits with budgets below $2 million. She also co-founded NoVIE, a member driven, CEO-level forum that brings together ideas, knowledge and support to benefit the health and viability of social good organizations. She was the driving force behind the NV Rides program that provides transportation for the elderly, and has recently co-founded the Latino Engagement and Achievement Fund under the umbrella of the Community Foundation of Northern Virginia. The Latino Engagement and Achievement Fund will be awarding its first grant this year. She is presently a Program Manager for Computer Core. She also serves on the advisory board of the nonprofits Empowered Women International, Inc. and Computer Core.
Mukit Hossain (posthumous award): Mukit was a telecommunications executive in northern Virginia and after the September 11 attacks he became a grass-roots activist who was instrumental in encouraging fellow Muslims to become more politically engaged. He was the president of the Virginia Muslim Political Action Committee
In 2006, he joined with Jewish leaders to push successfully for a Virginia state law that made it illegal to falsely label kosher and halal foods. He started Food Source, an organization to feed the homeless in Fairfax, and used his organizing skills on behalf of undocumented workers – particularly as immigration became a defining political issue in Prince William and Loudoun counties. He provided wisdom and expertise for Centreville Immigration Forum during its beginning, before his sudden death in 2010.
He was named Herndon Citizen of the Year in 2005 and was recognized for his community efforts in a joint resolution from the Virginia General Assembly. Mukit was born in Dhaka, Bangladesh, in 1956, and was awarded a full scholarship to study at Duke University, where he received degrees in economics, math, and philosophy. He received a master's degree in econometrics from NC State University. In the last years of his life he operated a hallal farm in Spotsylvania. He is survived by his wife Sabrina and two daughters.
Kofi Dennis: A Master Teaching Artist with Wolf Trap Institute for Early Learning through Arts since 1998, Dennis has shared his skills in drumming and story-telling with children and adults of all ages. , Kofi provides Arts Integrated classroom residencies and professional development workshops in music and creative drama for early childhood educators both locally, nationally and internationally. He performs with the duo "Anansegromma," and teaches traditional djembe drumming. He has also brought drumming and storytelling to juveniles and prisoners in area county jails. This past summer, he was part of a team of Wolf Trap master teaching artists and administrators who spent three weeks in Singapore, in collaboration with their National Arts Council and Early Childhood Development Agency (ECDA), to train, facilitate workshops and conduct STEM residencies in arts integration for teachers, administrators and artists. He has also supported the Centreville Immigration Forum by performing at the annual International Showcase.
In addition to training new Institute Teaching Artists, Kofi also conducts an arts integrated program (known as "Baby Artsplay") for infants up to five years, together with their parents at various county libraries and other centers. He is the music teacher at IDEAVENTIONS Academy for Math and Science based in Reston.
He is a graduate of University of Ghana, and studied at Komenda College, University of the Cape Coast.
Many thanks to the Dinner sponsors: Loren and Birgit Hershey and the LWH Foundation, Craig Kendall and the Kendall Philanthropic Fund, and Jerry and Alice Foltz.
#Giving Tuesday Builds Jobs and Justice
This Thanksgiving, say thank you to the immigrants and other day-laborers who transform our lives every day, by cleaning, repairing, moving, constructing, cooking, serving, teaching.  Centreville Immigration Forum's project, the Labor Resource Center, provides safe job negotiations, fair wages,  skills training, language classes.  Click here to say thanks!  #givingtuesday