Centreville Commission
for Labor Justice
What is Wage Theft?

Wage theft is the illegal practice of employers not paying workers for all of their work. This includes non-payment, partial payment, wages below the minimum wage, unpaid overtime hours or worker misclassification. Wage theft violates the Fair Labor Standards Act (FLSA) and the Virginia Payment of Wage Law.
Who is affected by wage theft?
Wage theft can occur at any job site, native and immigrant workers alike are vulnerable to wage theft. the impact of wage theft affects households, small businesses, and employers who pay workers fairly. A data finding conducted by the Economic Policy Institute found out the following:
In the 10 most populous states in the country, each year 2.4 million workers covered by state or federal minimum wage laws report being paid less than the applicable minimum wage in their state—approximately 17 percent of the eligible low-wage workforce.
The total underpayment of wages to these workers amounts to over $8 billion annually. If the findings for these states are representative for the rest of the country, they suggest that the total wages stolen from workers due to minimum wage violations exceeds $15 billion each year.
Workers suffering minimum wage violations are underpaid an average of $64 per week, nearly one-quarter of their weekly earnings. This means that a victim who works year-round is losing, on average, $3,300 per year and receiving only $10,500 in annual wages.
Young workers, women, people of color, and immigrant workers are more likely than other workers to report being paid less than the minimum wage, but this is primarily because they are also more likely than other workers to be in low-wage jobs. In general, low-wage workers experience minimum wage violations at high rates across demographic categories. In fact, the majority of workers with reported wages below the minimum wage are over 25 and are native-born U.S. citizens, nearly half are white, more than a quarter have children, and just over half work full time.
In the 10 most populous states, workers are most likely to be paid less than the minimum wage in Florida (7.3 percent), Ohio (5.5 percent), and New York (5.0 percent). However, the severity of underpayment is the worst in Pennsylvania and Texas, where the average victim of a minimum wage violation is cheated out of over 30 percent of earned pay. For the full findings  click on this link
The poverty rate among workers paid less than the minimum wage in these 10 states is over 21 percent—three times the poverty rate for minimum-wage-eligible workers overall. Assuming no change in work hours, if these workers were paid the full wages to which they are entitled, less than 15 percent would be in poverty.
Mission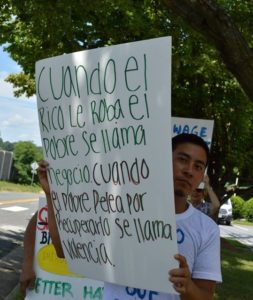 The Centreville Commission for Labor Justice was formed in May 2015 with the mission to fight, prevent, and ultimately end wage theft in the greater Centreville area. The commission is a project of the Centreville Immigration Forum, led by a Committee of workers, volunteers, small business owners and CIF staff. The CCLJ complements the work of the Centreville Labor Resource Center by assisting community members in negotiating with employers who have refused to pay their wages owed.
Goals
The CCLJ aims to carry out its mission by focusing on the following goals:
Pursueing individual cases of wage theft brought to the CCLJ by workers, with the intention of recovering lost wages. CCLJ members facilitate negotiations between workers and employers. Assist workers in filing and pursuing cases in small claims court, and develop alternative methods to collect unpaid wages.
Developing the I dislike Wage Theft Campaign a community wide campaign that focuses on building power among worker leaders and promote solidarity with the laborer community in Centreville.
Primary Goals:
Build a coalition between the worker community, small business owners, local officials, and local authorities.
Educate the community of the Centreville about the negative and far reaching impacts of wage theft, through flyers, public forums, and workers' rights workshops.
Work with elected officials to advocate for the penalization of wage theft at the local level and to develop effective enforcement practices.