About Us
Main programs:
Employment: Centreville Labor Resource Center (CLRC)is open from 6 am until noon, Monday to Saturday, Workers looking for a job for the day or a few days are matched with individuals wanting to hire someone with their skills. 75% of those who hire are homeowners in need of help on their property. From July 2015 to June 2016, a total of 1,140 jobs were arranged through the Center, with some hiring more than one member.
Skills training: Since opening, the CLRC has offered training opportunities for workers that include techniques for painting and patching dry wall, electrical safety workshops, landscaping, carpentry (including power-saw safety) and painting concrete floors.
Language classes: English conversation groups led by volunteers are offered most mornings while workers wait for jobs; these informal classes build job-related vocabulary and provide practical conversational skills in a small group (fewer than six people). An evening ESOL (English for Speakers of Other Languages) class supplements the daytime classes, using a structured format so participants can measure their progress.
Wage Theft: The Commission on Labor Justice (CCLJ) addresses the problem of wage theft both through helping individuals recover wages and by working for systemic change. CCLJ was established in 2016 and has already received wage theft complaints totaling over $100,000 in wages owed. The group assists individuals by sending letters and making phone calls on their behalf. They have accompanied some workers to Small Claims Court, and won judgments in their favor. the total money reclaimed so far is $6,840. In addition to assisting with individual cases, the group is working with the Interfaith Center for Public Policy and other allies around the Commonwealth to identify flaws in the system that allow wage theft to occur and introduce legislation to address them.
Grupo Cultural: Social and cultural programs are offered by CIF, many in partnership with the International Mayan League. These programs include: a dance group, a theater group and a number of social/holiday gatherings (see Special Events). These activities support leadership development, cultural pride and family strength.
Immigrant Rights Assistance:
CIF does not have an attorney on staff, but makes referrals to reputable immigration attorneys and non-profit legal services for workers with immigration questions. We offer "Know Your Rights" sessions community members worried about ICE raids. In addition, CIF has begun offering a "Family Reunification" program developed by the local school system. It is designed to help parents who left children in the care of relatives in their home country when they came to the U.S., but have recently been reunited when the children crossed the border in the recent surges, many traveling unaccompanied.
In December 2016, convened the Western Fairfax Immigration Strategy Group bringing together faith community leaders, schools, non-profits, county agencies and private immigration attorneys. The group discussed how changes to federal immigration enforcement—particularly an increase in deportations—would affect the low-income immigrant community and the institutions that serve them. Meetings have continued on a monthly basis. In an atmosphere where many agencies stay within silos and collaboration across sectors is unusual, the Strategy Group has filled an important need for the sharing of information and ideas, as well as a vehicle to speak up for local policies that protect immigrants' rights.
What makes CIF Unique?
The CLRC is one of only two day labor centers in the state of Virginia, and the only one that is privately funded. Yet what makes CIF truly unique is the commitment to democratic worker participation, empowerment and leadership development.
History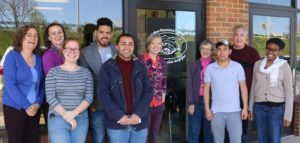 Centreville Immigration Forum (CIF) began as a series of open community dialogues to discuss the effects of rapid demographic change—from 1 in 10 foreign-born residents of Centreville in 1990, to 1 in 3 in 2010. From 2007 to 2010, during a time when immigration questions fueled controversy in nearby communities, residents from local churches and neighborhood associations met to learn about the impacts of immigration, and to get to know the day laborers who stood outside the Centreville library looking for work. In 2010, local businessman A.J. Dwoskin contacted Supervisor Michael R. Frey (R) to explore the idea of creating an organized worker center that would address the needs of the growing number of day laborers soliciting work near his shopping centers. He offered to provide space for a Center if someone could be found to operate it effectively. CIF incorporated, selected a governing board, and raised funds to pay staff. The Center opened in December, 2011, with the full support of Mr. Dwoskin and Supervisor Frey.
Initial community concern that the Center would attract crime and decrease community safety proved untrue, and the Center is now accepted as a community asset.
The vision of CIF is a community that provides acceptance and opportunity for all immigrants. The mission is to implement sustainable programs that provide immigrants in need with the means to improve their lives and become more integrated into the community; improve communication and cooperation among all groups serving immigrants; and build community recognition of our strength in diversity.
The primary project of CIF is the Labor Center, which fulfills the first part of the organization's mission. Its provides a safe, organized space where homeowners and contractors can negotiate fair work arrangements with day laborers and workers can build the skills they need to support themselves and their families.